What Makes a Kodiaq RS 4x4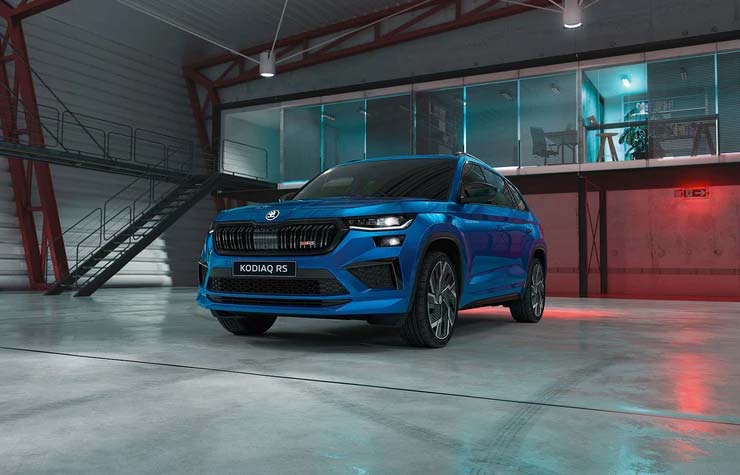 Power you can feel
Driven by our Turbocharged 2.0 TSI 7-speed engine, the KODIAQ RS 4x4 packs blood-pumping power that you'll feel the moment your foot hits the pedal. Plus, with its 4x4 drive system, you'll find limitless ways to put its performance to the test.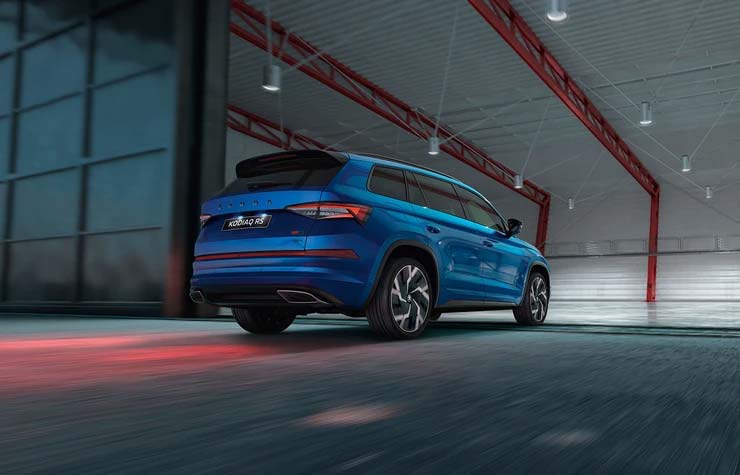 4x4 fun with 7 seats
Designed to conquer wide open spaces in style, the KODIAQ RS is a 4x4 that commands any road you take it on. Complete with 7 seats to fit you and your crew, this spacious SUV doesn't do anything by halves.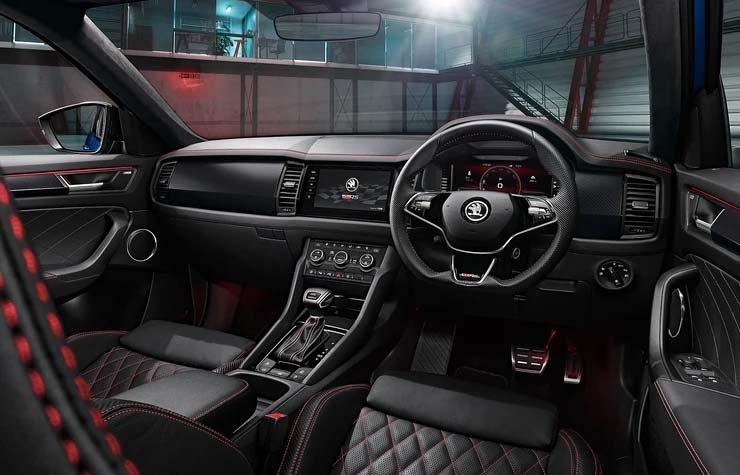 First-class interior
Why settle for just a taste of the good life, when you can enjoy it any time you like? With heated seats, leather interiors, Wireless Charging and Smartphone Connectivity²⁶ and even a driver's seat that remembers your preferences, you can enjoy premium comfort every time you get behind the wheel.
As Smart As It looks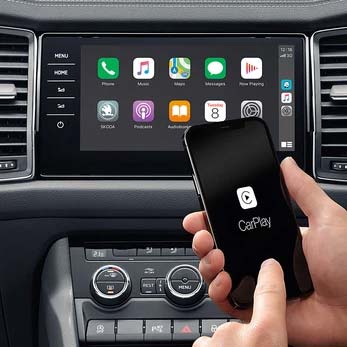 Wireless Smartphone Connectivity²⁶
Virtual Cockpit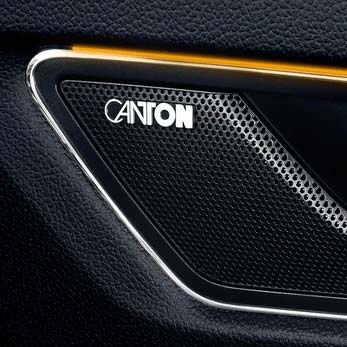 CANTON Sound System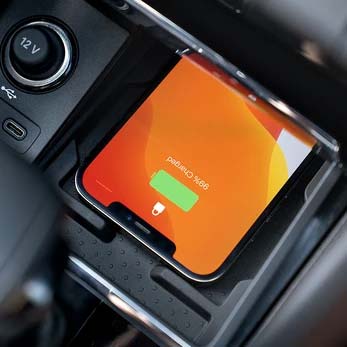 Wireless Charging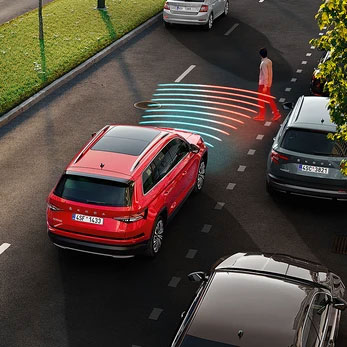 Front Assist ³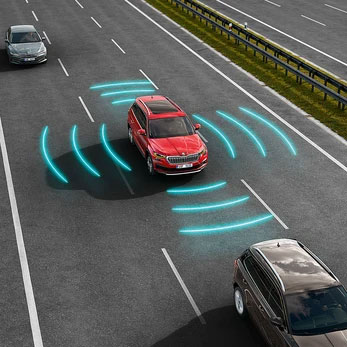 Emergency Assist³ (Optional)⁷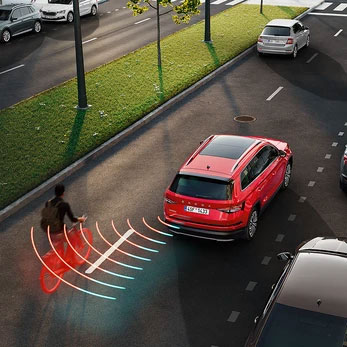 Side Assist³ (Optional)⁷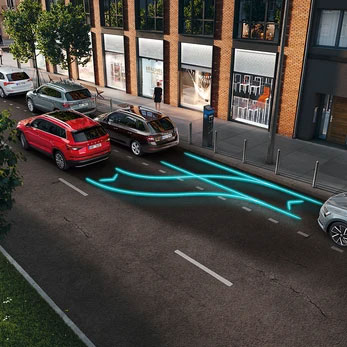 Park Assist³ (Optional)⁵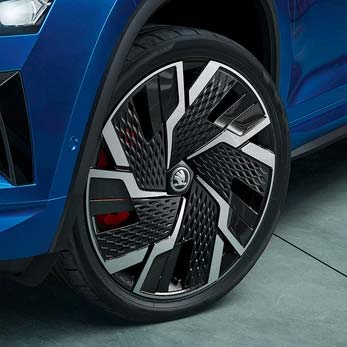 19" Black CRATER Alloy Wheels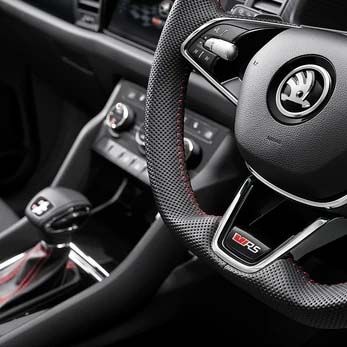 Multifunction Leather Steering Wheel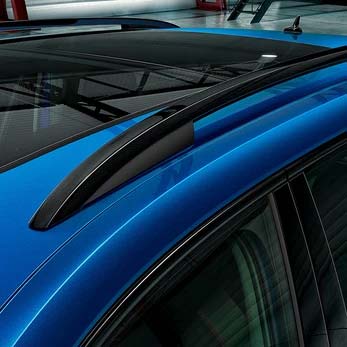 Full Matrix Headlights (Optional)⁷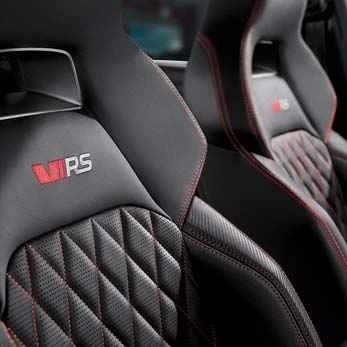 RS Leather Upholstery⁸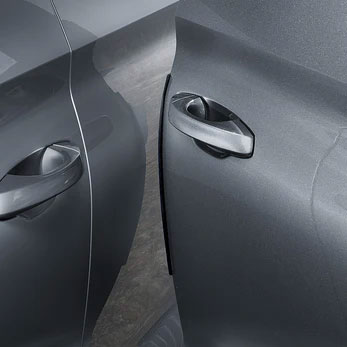 Door Edge Protection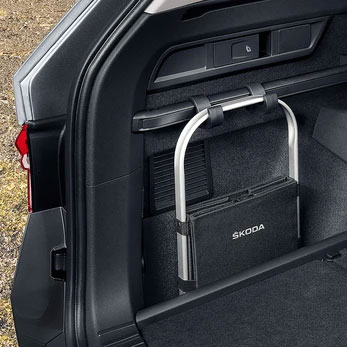 Luggage Hooks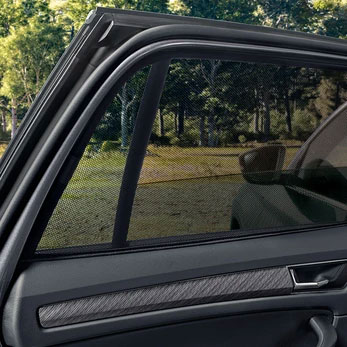 Rear Window Mechanical Sunblinds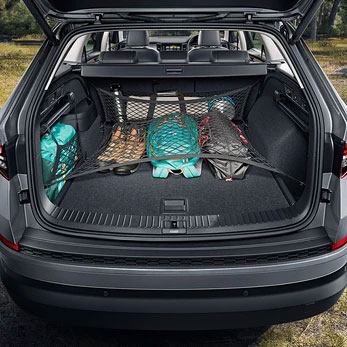 Net System
Engines
2.0 TSI
180 kW 7-sp DSG 4x4
RS 4x4
7-Speed DSG 4x4
Transmission
6.6s to 100 km/h
Acceleration
370 Nm
Max torque
Fuel type
Petrol
DISCLAIMERS
² Trade-in Bonus Offer is available when you trade in your vehicle for a new or demonstrator MY21 ŠKODA vehicle purchased between 01/10/2021 and delivery by 31/12/2021. While stocks last. Private buyers only. Trade-in Bonus Offer will be awarded as a discount off the Manufacturer's Recommended Driveaway Price and is not transferrable or redeemable for cash. Only one claim permitted per person. Excludes other offers. ŠKODA Australia reserves the right to extend, withdraw or change all offers.
³ Safety technologies are designed to assist the driver, but should not be used as a substitute for safe driving practices.
⁸ Leather appointed seat upholstery have a combination of genuine and artificial leather, but are not wholly leather.
²⁶ KODIAQ featuring wireless Apple CarPlay® and wireless Android Auto™ is compatible with the latest versions of iOS and Android, active data service required, optional connection cable (sold separately).
1Manufacturer's recommended driveaway price (MRDP) for new vehicles sold and delivered by 31/12/2021. MRDP is an estimated price which includes the recommended retail price, 12 months private registration, 12 months compulsory third party insurance (CTP), an estimated dealer delivery charge, stamp duty, options entered during the configuration process, and other applicable statutory charges that may apply such as Luxury Car Tax (LCT) for private use vehicles above a certain thresholds. Actual prices and stock availability will vary between locations and dealers, and on-road costs will vary according to individual circumstances. Please contact your local ŠKODA Dealer to confirm your individual price and vehicle lead-time. While stocks last. Excludes other offers. ŠKODA Australia reserves the right to extend, withdraw or change all offers. ŠKODA Australia does not warrant the accuracy of any of this information as applicable to your particular circumstances and to the extent permitted by law is not liable for any claims or losses of any nature, including, but not limited to, damages, expenses, lost profits, punitive, special, indirect or consequential losses/damages caused by reliance on this information. Due to ongoing production disruptions caused by a global shortage of key vehicle components, delivery forecasts are highly volatile and subject to change. Contact your local ŠKODA Dealer to determine expected vehicle delivery timeframes.